Waterfront
Lake Cobbosseecontee
Our beloved, pristine lake is the crown jewel of Cobbossee.  And it is such a lake.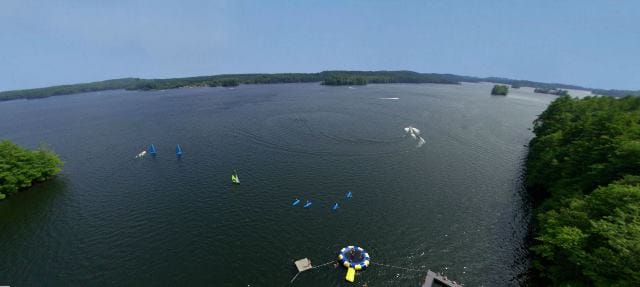 It is the best bass-fishing lake in Maine. It is deserted, even on weekends. At night the moon lights up the whole lake. Loons sing from its waters in the evenings, sending Cobbossee boys to sleep. Just across the waves from our fantastic waterfront lies Spirit Island: the camping destination for our boys and the goal of every lake swim.
Swimming
Our team of certified swim instructors and lifeguards provide Red Cross WSI Certified swim lessons and they have been trained by the best. Our Director, Josh Holland has been training waterfront directors for nearly ten years and even has his own Waterfront Leadership School.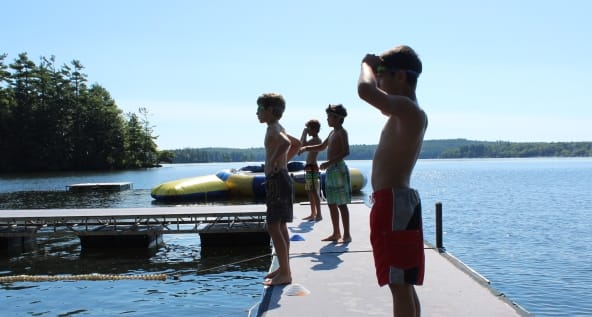 Campers have the opportunity to improve their swimming skills substantially over the summer and are encouraged to participate in swim meets with neighboring camps.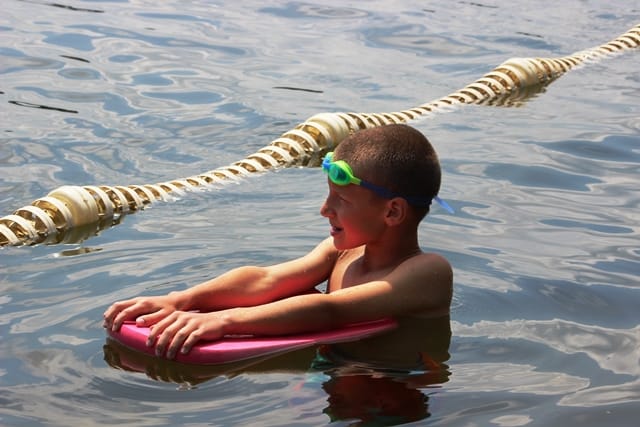 Whether campers want to improve their swimming skills, just cool off during a daily recreational swim or get flip off one of our two 25-foot floating trampolines the Cobbossee waterfront is simply a blast.
Kayaking and Canoeing
Summer camp in Maine would not be complete without learning how to canoe and kayak.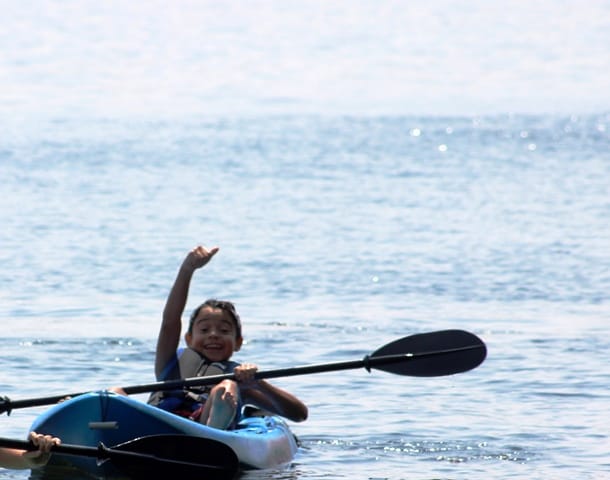 Beginning with the fundamental strokes and skills, Cobbossee boys are soon trying to best their personal records on our paddling gate course!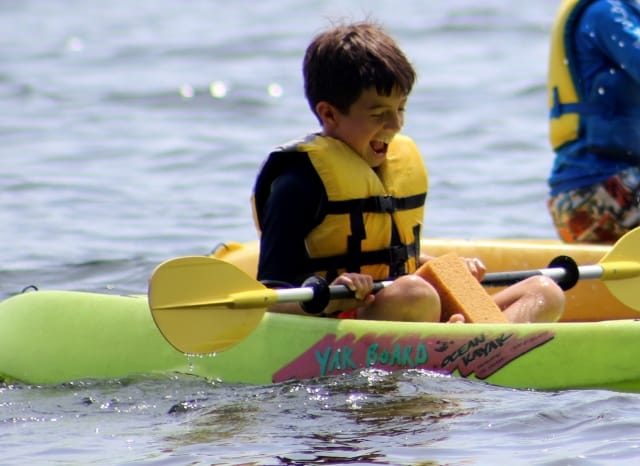 After the skills have been established, it's time for sponge tag!
Sailing
Right after lunch each day, a warm breeze kicks up across our lake.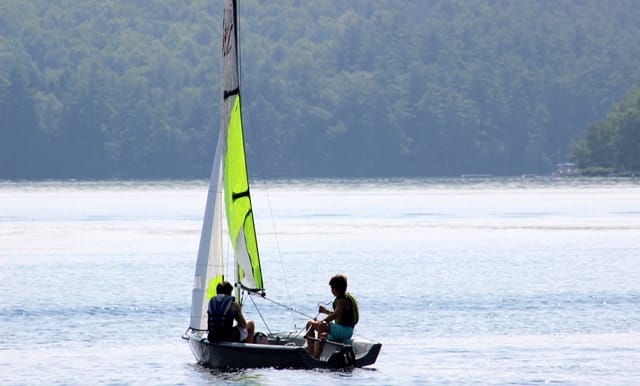 Our boys quickly learn to captain their own ships thanks to the wonderful instruction by our certified sailing teachers. Boasting RS Fevas, RS Qubas, Lasers, and Sunfish, we have a boat that matches every boy.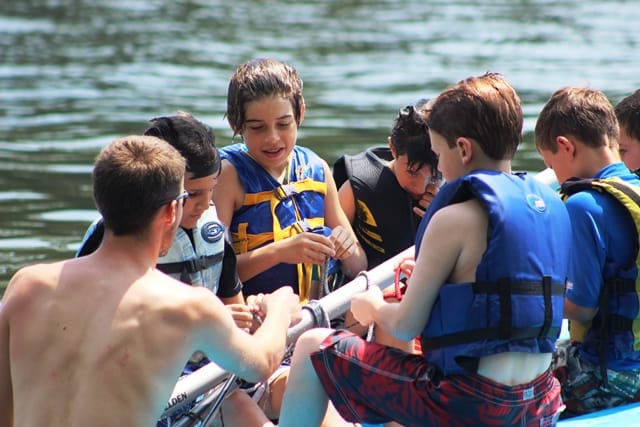 Our boys soon learn to rig their own boat, sail a triangle course, and to right a capsized craft. It's all part of our boys developing skill after skill and watching their confidence surge.
Waterskiing and Wakeboarding
Whether slicing through our slalom waterski course, nailing a 360 on a kneeboard or clearing the wake on a wakeboard the ceiling is high for how radical our campers can get under the professional instruction of our enthusiastic ski staff.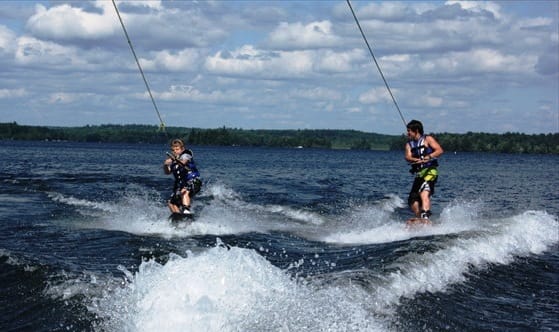 We offer lessons for the whole spectrum of skills, enabling beginners to get up and feel confident.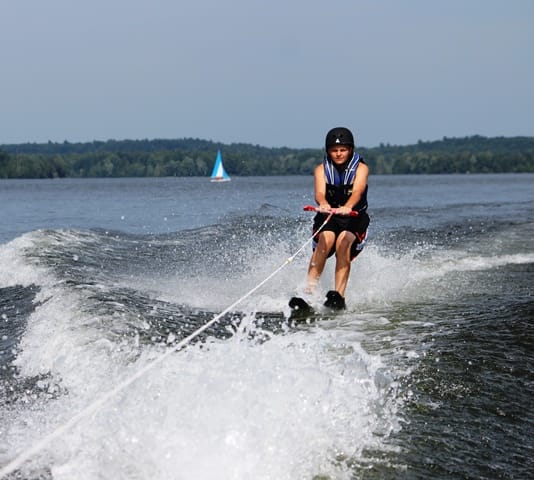 More advanced riders are able to master their technical moves.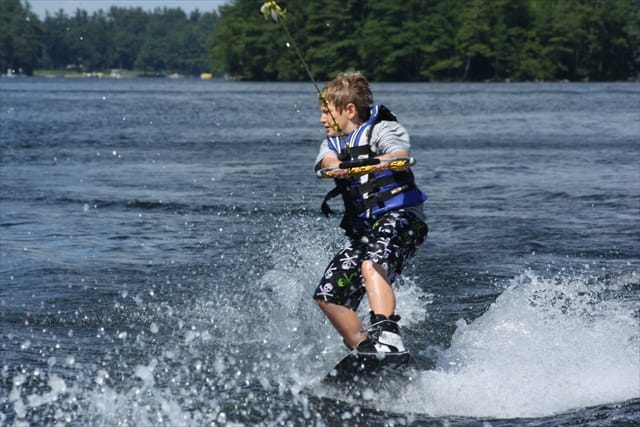 Safety is our number one priority with lifeguard certified instructors, drivers and spotters on each boat.
Fishing
Lake Cobbosseecontee is well known for its large and small-mouth bass.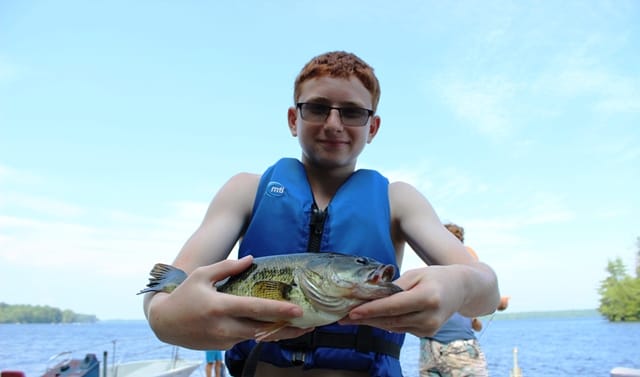 Fishing has become so popular recently that we've added a pre-breakfast fishing trip! We have thousands of feet of lakeshore, as well as a fishing dock and a two large pontoon boats. No matter what their age, our boys love to go fishing!