EXPERIENCE SUMMER
THE WAY IT WAS
MEANT TO BE
It's going to be so fun. Your new friends are waiting for you. You are going to become a part of a band of brothers. You will have stories your family will listen to but not fully understand. You will find a new, better version of yourself on Cobbossee's sports fields, in its forest, on its lake. Mostly, it's going to be so fun!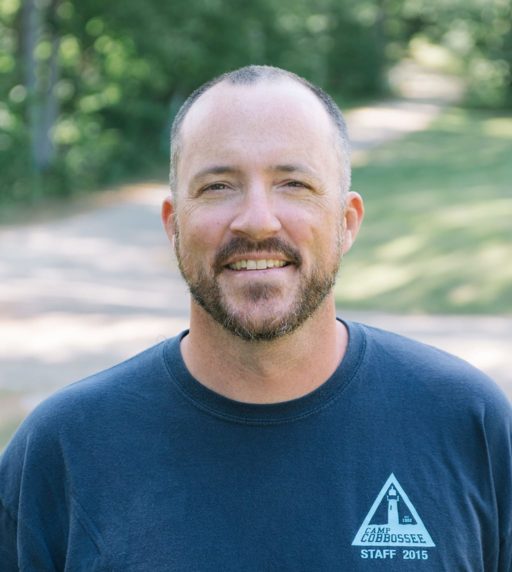 Josh Holland
Camp Director
American Studies PhD
When I was fifteen years old, my parents grudgingly allowed me to go work at a boy scout camp in the mountains of Idaho. I was out there for 10 weeks of pure heaven. That was it. That was 28 years ago. I've held pretty much every position you can at a camp, from archery instructor to waterfront director, from kitchen staff to director of the camp. In between I was a collegiate athlete at Wabash and Willamette University, a high school and college teacher, and a high school swimming and soccer coach. I have a BA from Willamette University, an MA from Washington State, and a PhD from the University of Texas at Austin. But summer camp has always been the calling. The "why" part is not complicated for me, and it's the most true at Cobbossee than at any camp where I've worked: you come to Cobbossee, you change for the better. Your son comes to Cobbossee, and he will change for the better. This Cobbossee family will really see him, help him, understand him

Research
While in the Department of American Studies at the University of Texas, Josh became fascinated by alternative approaches to education (like camp!). He began systematically studying the institutions and culture of educational movements like the Waldorf system, Montessori, and finally Outward Bound. He discovered that the founder of Outward Bound, Kurt Hahn, also started a series of year-round schools in the 1960s as an answer to looming global violence in the form of a possible World War III.
In 2011, Josh moved to the only one of these schools in the United States, the United World College of the American West near Santa Fe, New Mexico, and spent 2.5 years executing an anthropological study of the international residential high school, the larger movement, and the effect that both had on the UWC-USA students.
In other words, through his academic studies, Josh discovered, recorded, and interpreted a phenomenon that he'd already seen at summer camp: that people can change dramatically when given the proper context and program.
Josh's research was based on Outward Bound founder Kurt Hahn. You can read more about Hahn here:
Anna Miller
Seasonal Assistant Director
Anna has spent over 10 years working at various sleep away camps. She has worked as a gymnastics counselor, Group Leader, Land sports Director, Operations Director, Head Counselor and is now as a Seasonal Assistant Director at Cobbossee. Camp has become such a significant part of her life that she shares the experience with her whole family, including her husband and Soccer Director, Jamie, and their two daughters. Anna comes to us with a BA in Psychology, BA in Education, and an MA in Educational Leadership and Management. Anna strongly believes in creating an environment where our values are visible and an integral part of the experience. She embodies and cultivates Brotherhood, Sportsmanship and Community at Cobbossee. Anna is returning for her 5th summer to continue to help Josh and Ryan ensure that all members of our community are safe, happy and supported in their summer home.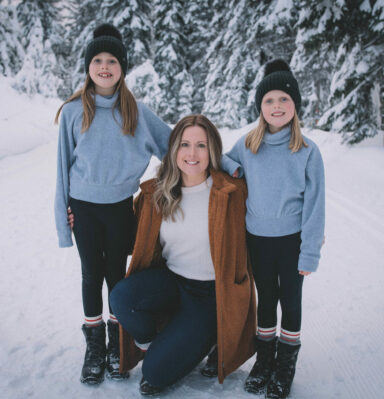 Brian Haley
Head Counselor
Brian returns to Cobbossee year to year, from counselor to Group Leader to Head Counselor, to continue contributing to a place where boys can genuinely express themselves. He hails from San Diego, California where he received his Bachelor's in Education and a K-8 Teaching Credential from San Diego State University. During this time, Brian worked for after school programs that offered assistance to low income households and for Americorps, traveling the southern US working for various nonprofit companies confronting a variety of social and environmental issues. As the Head Counselor for 2nd - 6th graders, Brian works to foster the social and emotional well-being and development of campers and is dedicated to creating genuine connection among the boys at Cobbossee. Brian played Ultimate Frisbee in college and enjoys getting out to the disc courses around Maine on days off whenever he can.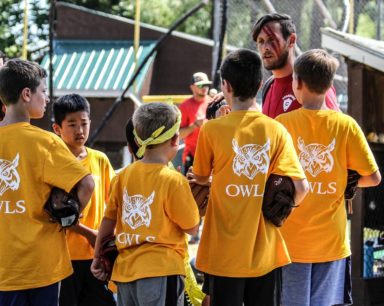 Patrick Nielsen
Head Counselor
Having never attended summer camp as a kid, Patrick came to Cobbossee as a wide-eyed, 19-year-old, basketball counselor 7 years ago. During that time at Cobbossee, he worked in the oldest age group and quickly became recognized as a leader. Patrick spent three years as the Group Leader for the 7th and 8th graders before eventually moving on to a career in Hospital Management. Patrick received a Bachelor of Arts in Sociology from DePauw University with a minor in Asian Studies before going on to get his Master of Science in Health Systems Management from Rush University. This year, he was able to triumphantly return to his home away from home as the Head Counselor for the 7th, 8th, and 9th grade boys. Patrick supervises and mentors these groups when it comes to their emotional, social, and physical well-being and safety. He's beyond excited to return to Cobbossee as we are to have him.
Alyssa Mehl
Program Director
Alyssa grew up in small town Illinois playing all kinds of sports and enjoying the outdoors with her three older brothers. She holds a BS in Accounting with a minor in Forensic Accounting from Indiana State University. Discovering Cobbossee as an accounting intern, Cobbossee's sense of community and culture roped her in. As the Program Director, Alyssa makes sure each boy has the perfect summer schedule while also having as much fun as possible. During the rest of the year, Alyssa is also the Operations Coordinator and Registrar for Cobbossee full time.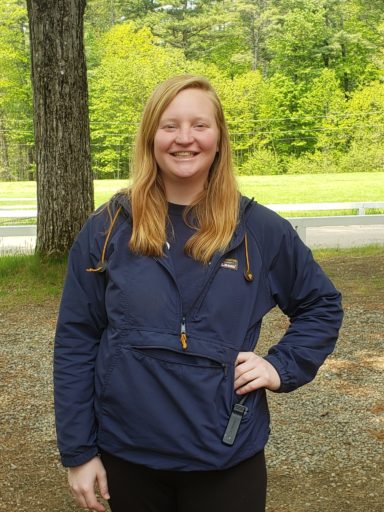 Logan White
Operations Director
Returning for his third summer at Camp Cobbossee, we would like to welcome back Logan White as our Director of Operations! In his past years at Cobbossee he worked down on the Waterfront and helped improve our fitness program into what it is today. Logan has his Bachelors of Science from the University of Arizona from the Eller College of Management. During this time at U of A he held the role of Weight Room Supervisor, overseeing multiple programs held at the Recreation Center, on top of running the Weight Room. He has spent the last three years working as an Operations Area Manager for Amazon launching Amazon Robotics sites all over the country. He has a large passion for sports, especially rooting for his Arizona Cardinals on Sunday! We are excited to have him back at camp this summer sharing best practices, and to continue making Cobbossee a place set apart.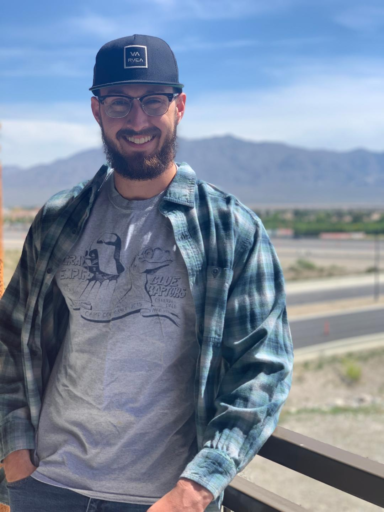 Matthew Jones
Adventure Director and Staffing Director
Matthew "Jonesy" Jones grew up hiking, camping, and adventuring with his family in England. Jonesy has been at the helm of the Adventure program for the past 4 years ensuring our boys have a safe and challenging adventure experience at Cobbossee and throughout Maine. Entering his 8th summer at camp, Jonesy is obsessed with providing fun filled outdoor experiences for all of our boys and staff. His love of Cobbossee extends further than the Adventure Program as he enters his 5th summer at camp as our year round Staffing Director.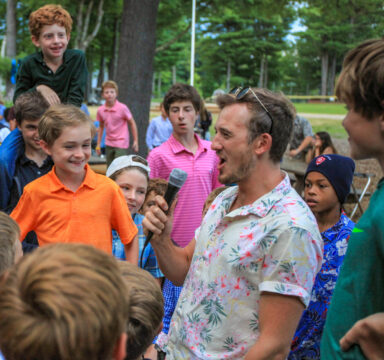 Sven van Wijnbergen
Head of Waterfront
Sven was born and raised in a small town in the Netherlands. Since the age of 4, Sven has lived and breathed water sports. He came to us in 2016 as a top water ski instructor and instantly fell in love with Cobbossee. Sven returned as one of the Waterfront Assistant Directors the next few years and after graduating with a degree in Communication & Multimedia Design, Sven became our Waterfront Director in 2020. He got his official start a year later with a "baptism by water", leading a full rookie staff. Sven plans to return to Cobbossee for many years to come.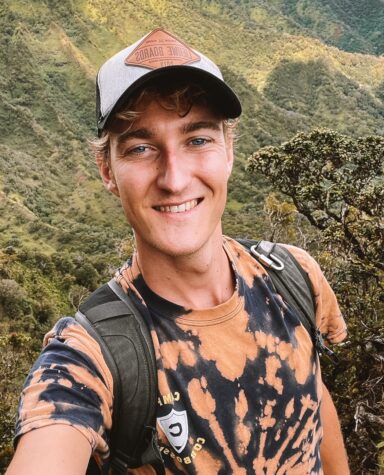 Nate Abate
Head of Woodshop
Nate joins us as a certified carpenter from Australia. With a business degree in tourism and a plethora of experience working with children in the foster care system, building relationships is at the forefront of Nate's practice. The many years of experience as a builder that he brings to Cobbossee allows Nate to teach new skills to the campers within a fun, supportive and safe atmosphere.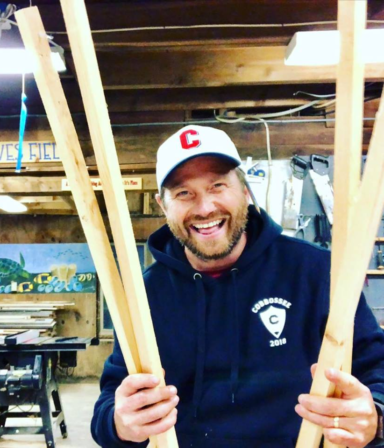 Michael "Griff" Griffin
Director of Coaching and Special Events
Griff just retired as the head coach of Men's Basketball at the Rensselaer Polytechnic Institute, where he was the winningest coach in program history. With 30 years of coaching experience and 50 years in camping, Griff is our steady hand at the tiller. He makes sure our sports are outstanding, well-organized, and played with passion and grace. Griff also oversees our legendary color war and camp traditions.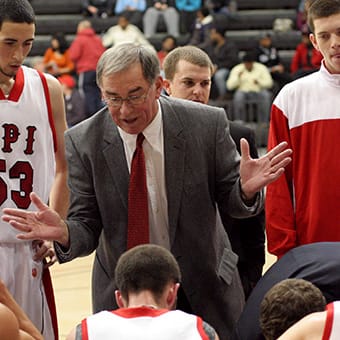 Lloyd Johnson
Head of Tennis
Lloyd has lived and breathed tennis and Cobbossee for 24 years, informing Cobbossee's program with his experience with Tennis Jamaica as the national school's program coordinator and assistant to the Jamaican National coach Doug Burke. Lloyd also coached the Jamaican Junior National Squad and was a white-badged chair umpire. Lloyd is certified by many tennis entities including Tennis Jamaica, the International Tennis Federation, the Mexican Tennis Federation and the US Professional Tennis Registry.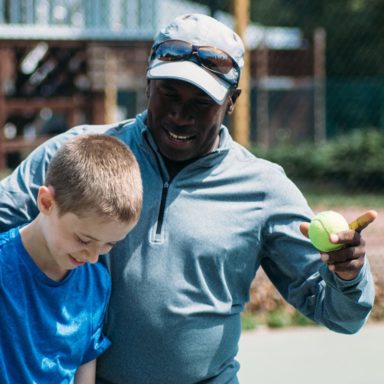 Tom Donahue
Head of Baseball
In his 10th year at Cobbossee, Tom Donahue has brought decades of head coaching experience to our baseball program. Playing both baseball and football in college, Tom coached in the minor leagues for 12 years. He now coaches high school baseball and football in Lynn, Massachusetts when he isn't at Cobbossee. His baseball team won a state championship in 2015 and his football team made it to the state finals in 2016. In addition to all of this, Tom invented the world-famous game of Awesomeball at Camp Cobbossee!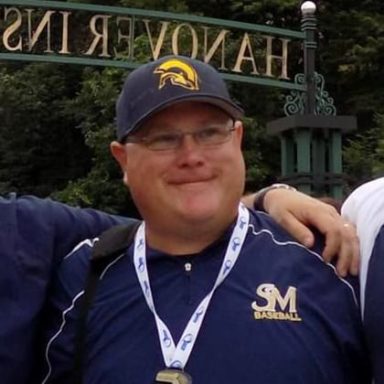 Jimmy Woods
Head of Football
A true student of the game of football, Jimmy Woods hails from the hills of Tennessee. He coaches high school football in South Carolina at a large AAAA school. Jimmy's coaching resume is remarkable, having coached at the Division I level for South Carolina, as well as on many teams that contended for state championships. He is well-known at Cobbossee for his precise drills and his ability to draw life lessons from sports. He comes to Cobbossee with his wife, Laura.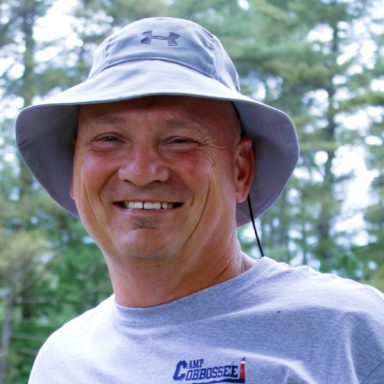 Jamie Miller
Head of Soccer
Coach Miller is entering his 7th year at the helm of Cobbossee's soccer program. A seasoned coach and educator at many levels, Jamie holds a Provincial B License and currently coaches in the Calgary Rangers program in Calgary, Alberta, Canada. Jamie holds a Bachelor's Degree in Physical Education and Biological Sciences, Master's Degree in Sports Management and is an Assistant Principal during the school year. Jamie is extremely passionate about soccer. This focus stems from his own experience as an elite player (a Provincial All-Star and a National Champion himself at 17) and also from the development he sees on the pitch. He loves sharing this passion and experience at Cobbossee. Joining Jamie at camp are his wife Anna, and daughters, Amelia and Molly.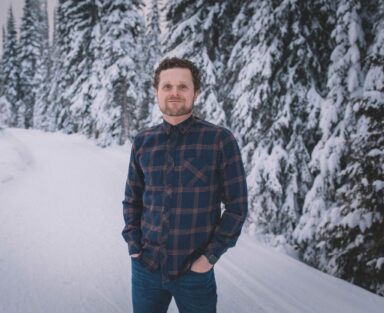 Stephen Birchfield
Head of Basketball
Stephen "Birch" Birchfield joins us from Brewton-Parker College in Georgia, where he is the Associate Head Coach during the school year. With a BA from the same school, 6 years coaching experience at High School level, and experience playing basketball in College, his passion for the game has fueled his career. Birch believes that working with young boys is the most rewarding as he can help refine their skills early. He brings great energy to his practices and games on the court and is happy to be in a place that matches his own values of sportsmanship and importance of community.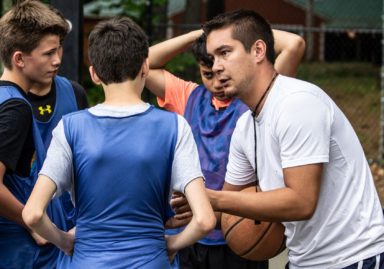 MORE THAN "JUST" A SPORTS CAMP
THE BEST KIND OF COMPETITION
At Cobbossee, we compete, learning to handle wins and losses with grace. Our boys receive top flight instruction from superior coaches of deep experience. In four weeks our boys improve as athletes, but also as people. Because our sessions are such a blast, our boys hardly notice they are learning!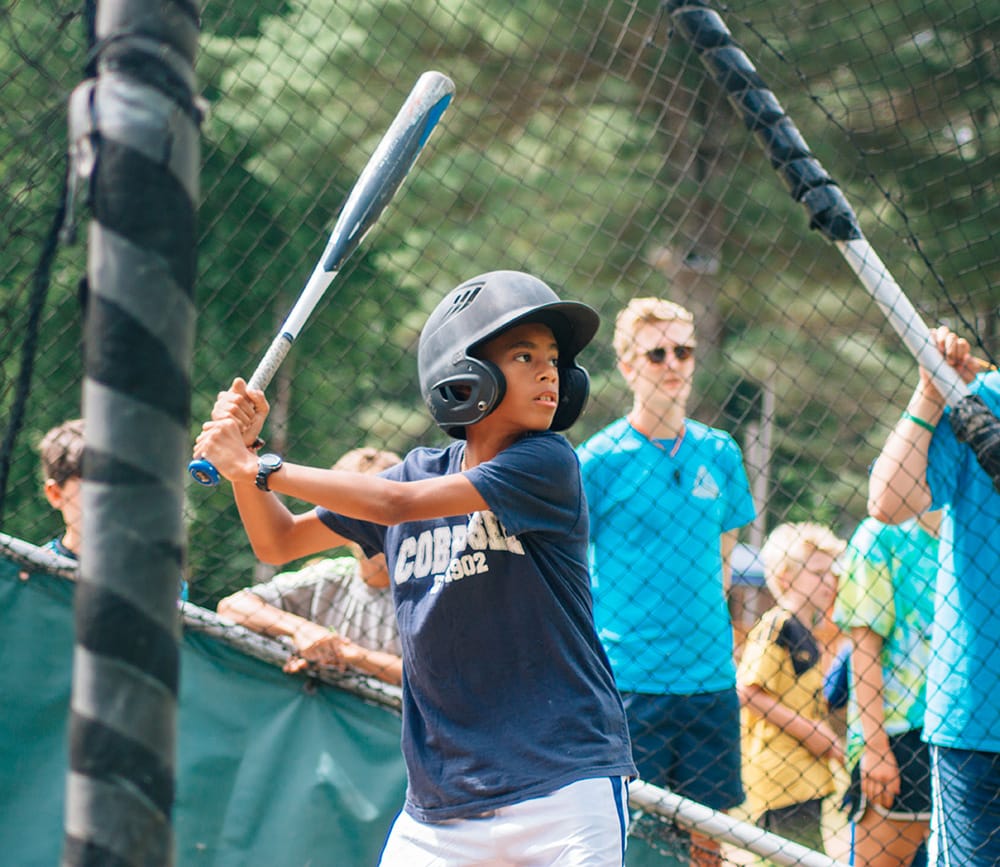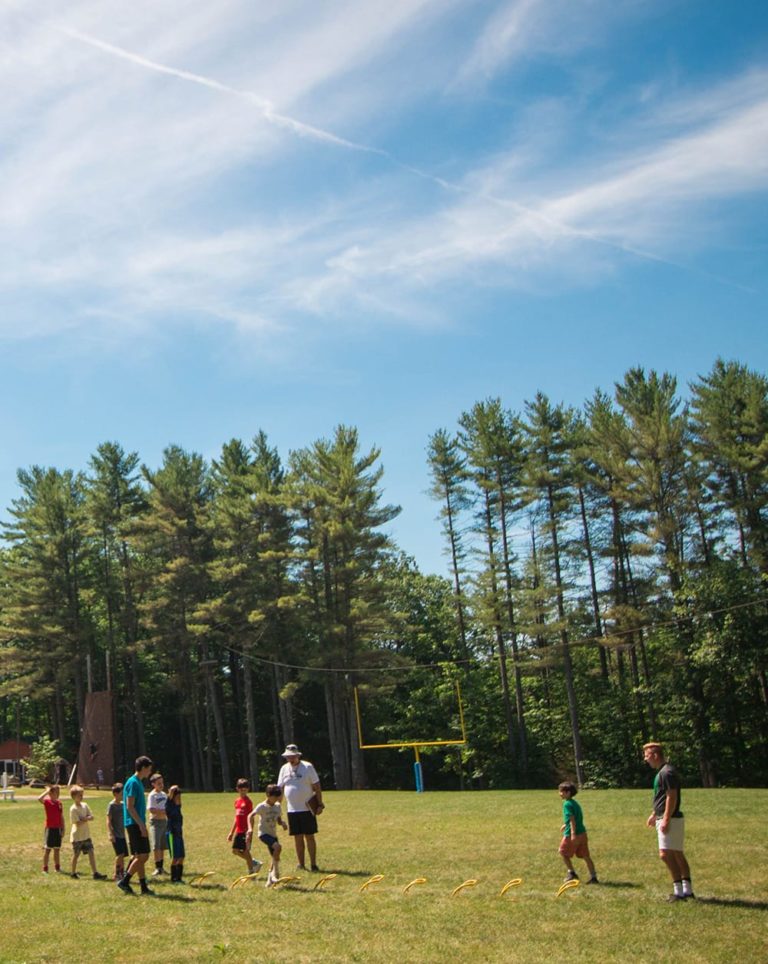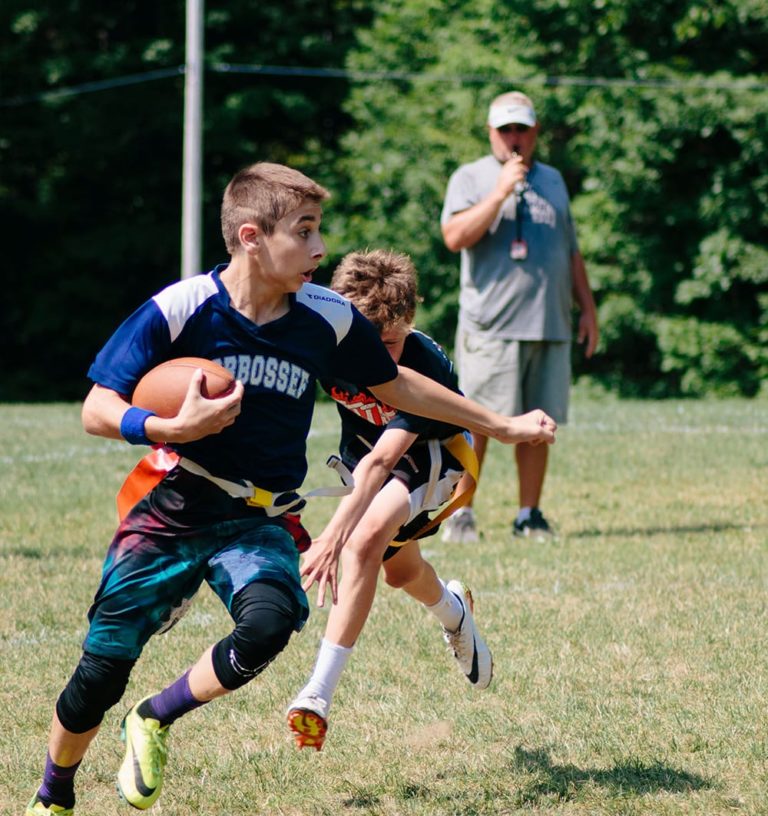 IN SEARCH OF ADVENTURE
Offering great sports is hardly the end of our program. We send our young men out into Maine's woods and onto its waters in search of adventure. They learn to camp, make fires, sail, mountain-bike, throw tomahawks, canoe, climb, shoot bows, and fish. And, just as they do while playing sports, our boys grow closer to each other in the process.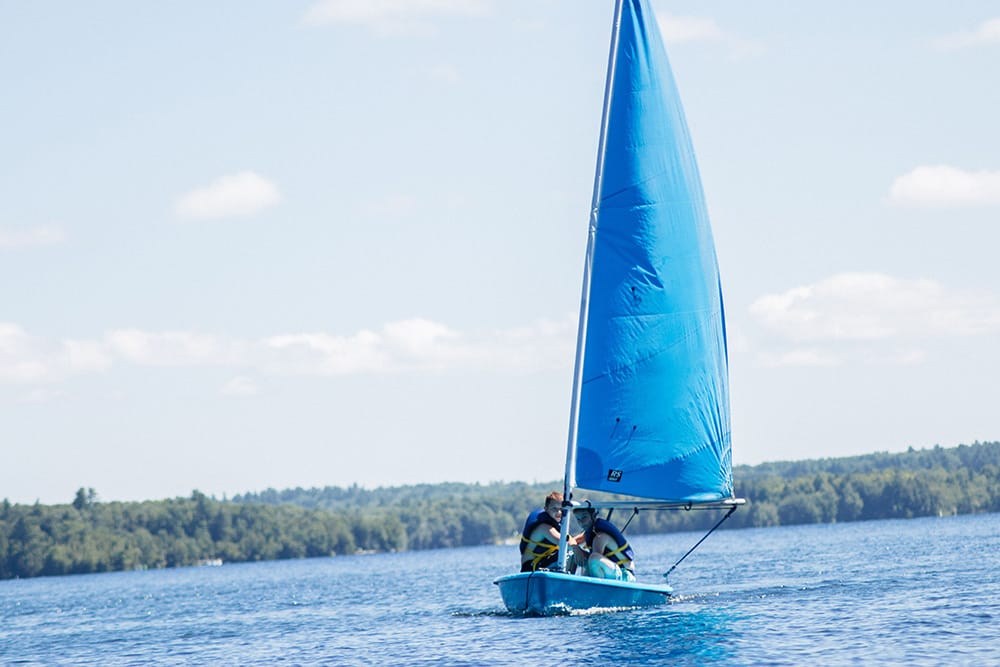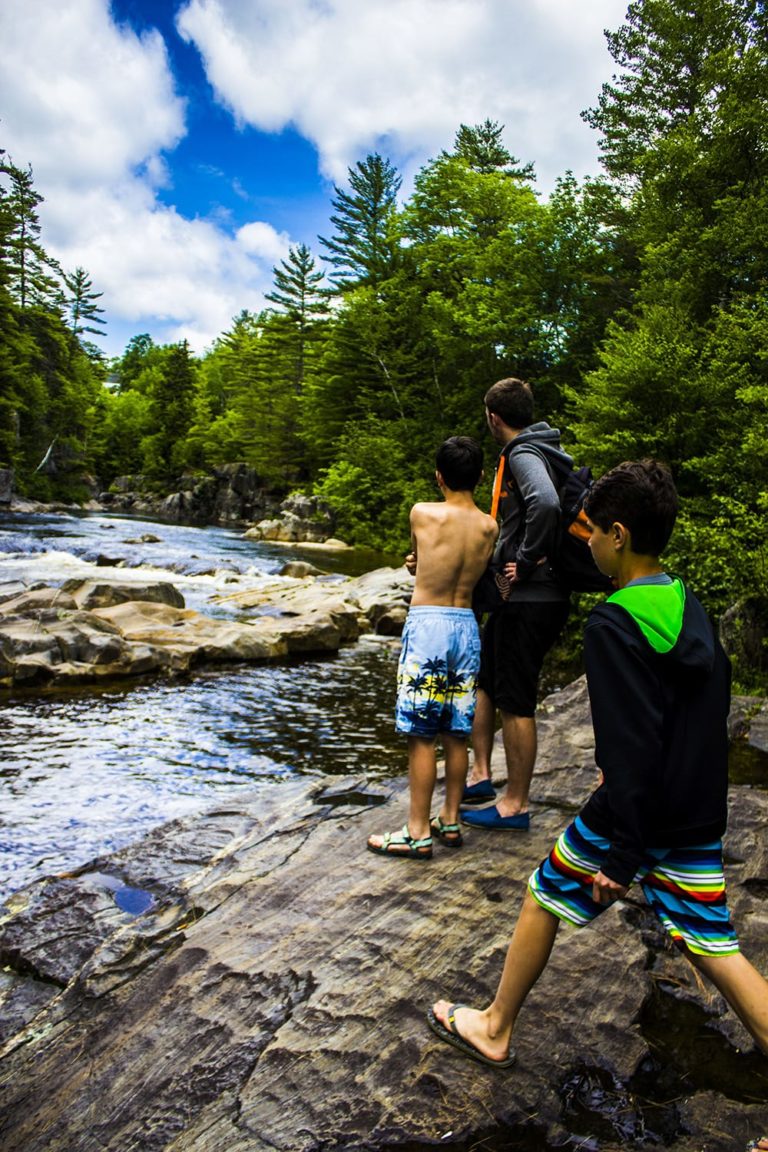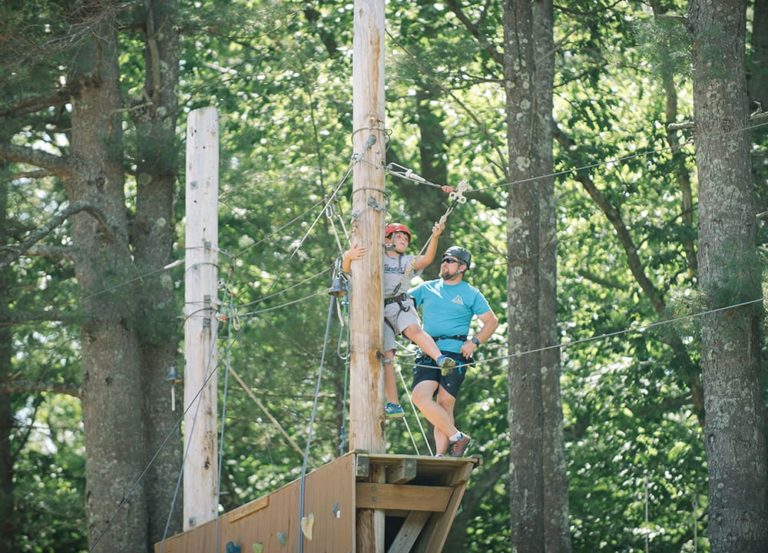 We sometimes find it hard to put the beauty and magnificence of our camp's grounds and facilities into words. We also find it hard to put it in a regular ol' map, so we built a 360 experience that we feel does a much better job of bringing our grounds to life.
Experience Our Camp in 360
THE BEST FOOD IN CAMP ANYWHERE
Cobbossee has nothing less than the best food in camping. Chef Louis is the reason. In his 31st year at Cobbossee, Louis brings love and immense skill to each meal, making almost everything from scratch. The food is so good, one of the few things Cobbossee boys argue about is what meal is the best. Louis comes from Gainesville, Florida (Go Gators!) so his southern food is even more legendary than the rest. His fried chicken is a secret family recipe. Our boys eat with their counselors at lovely wooden great tables that are bunk-sized.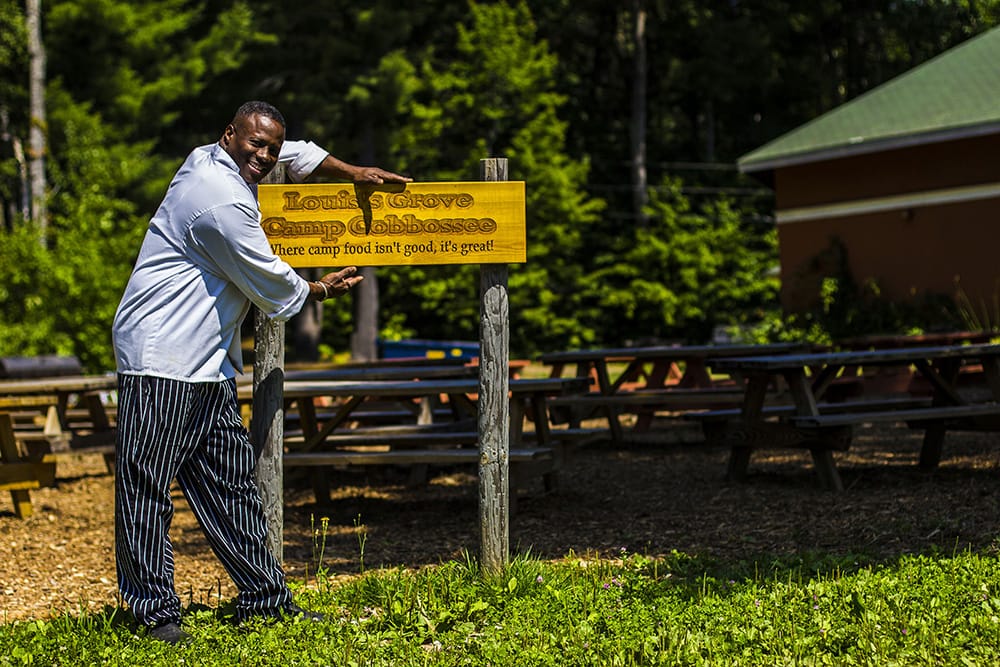 MAINE FRESH
When you have the chef that we do, you need to give him great ingredients. That's why we built a massive organic garden! Louis and his staff take the produce right off the vine and present it on our salad bars and in his recipes and our boys help! The end-result is a camp full of super active boys being fed food made with love and with ingredients grown a few feet from our gorgeous dining hall.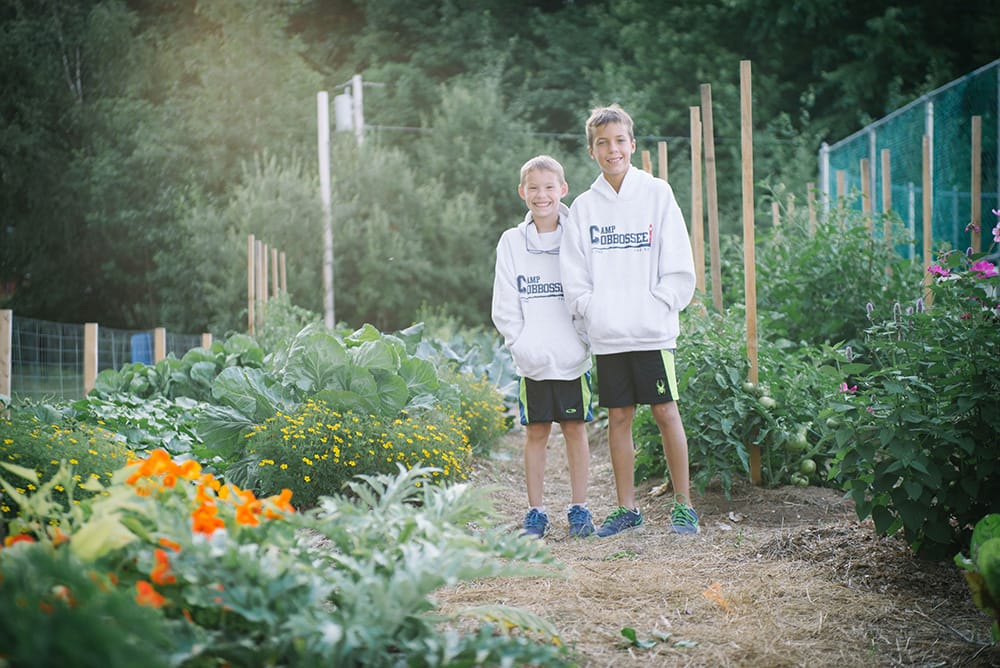 WORK HERE: OUR STAFF CULTURE
OUR STAFFING PHILOSOPHY
You, the counselor, are going to be the most important person in a camper's life for four weeks. You must have great judgment, a high skill level in one of our activity areas, and a deeply-felt compassion for and interest in young people. Most of all, you must be ready to be selfless. Do that, and the most transformative summer in your life awaits you.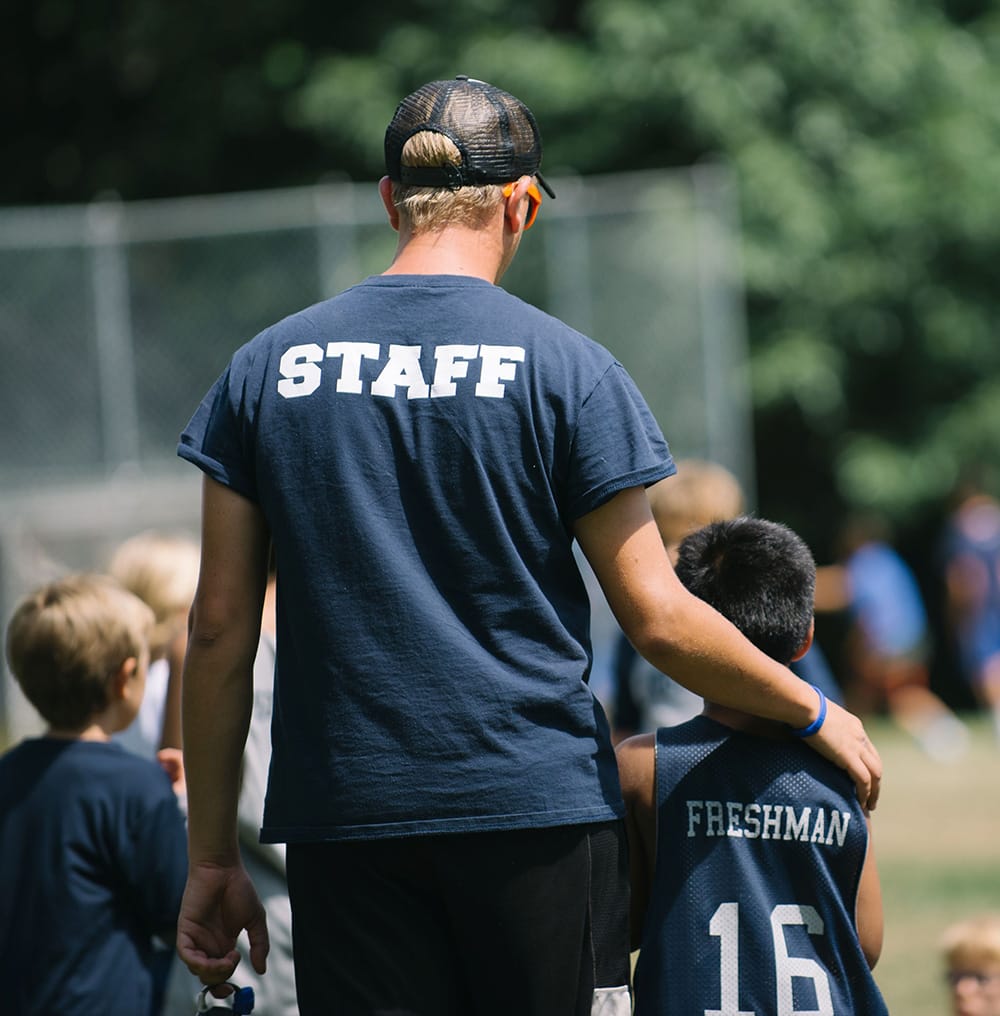 THE BEST JOB IN THE BEST PLACE
Over and over, we hear it: "This was the best job I have ever had. This is the hardest job that I have ever had." We aren't going to pull any punches: being a Cobbossee counselor or staff member is no joke. We have high standards and higher expectations of your abilities, effort, integrity, and patience. We have these standards because parents have placed their sacred trust in us and we, all of us, will deliver. And for you? Well Cobbossee will change your life. From your first interview to the last day of Cobbossee our system will help you become your best self. That is not something one forgets. And our campers will never forget you, either.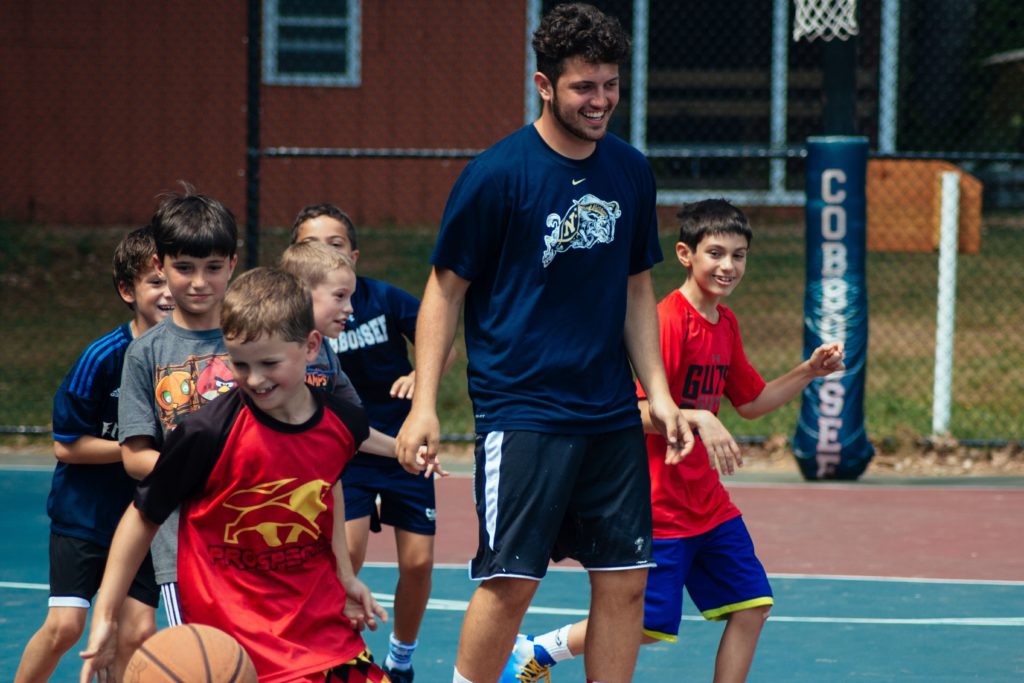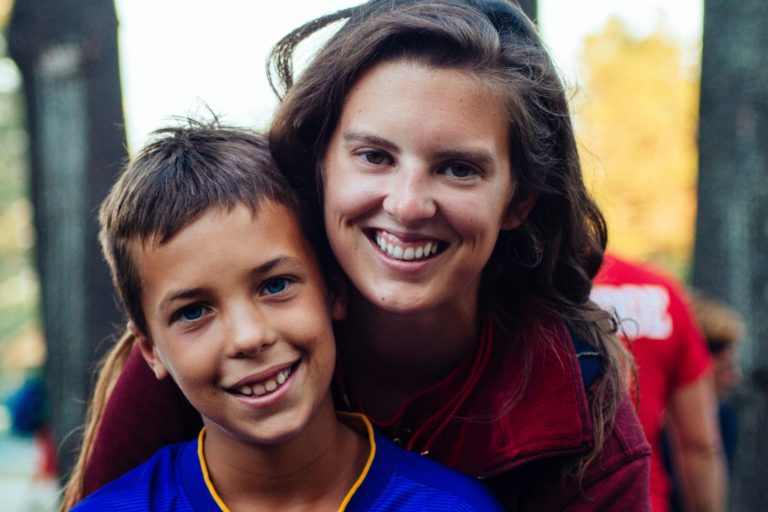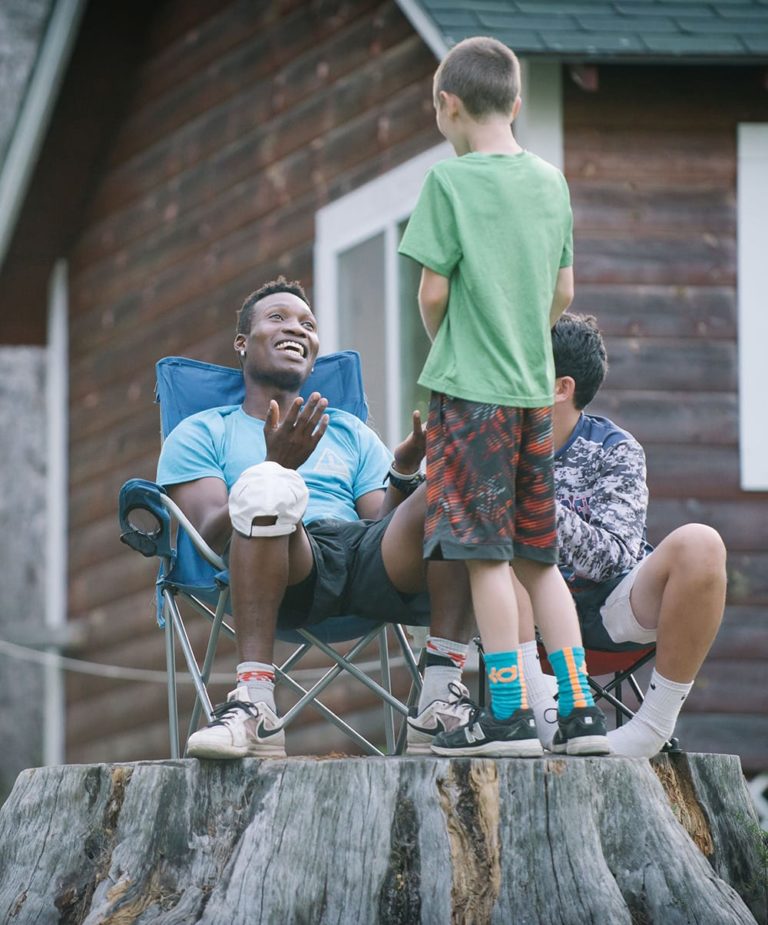 Our leadership staff helps you get ready for the campers in an intense staff orientation that will develop and increase the skills you already have. You are educators and leaders – just like the coaches and teachers that changed your own life when you were younger. You will learn our safety protocols, best practices, and get tools and techniques from the best of the best.